Take your vocational skills to the next level with Certificate & Diploma Programs at an Australian vocational college.
Build your international network, strengthen your mastery of English, and achieve your dreams through quality Vocational Education and Training (VET) programs at Greystone College Australia. Complete individual qualifications that meet your interests or create a long-term study plan in Australia by combining progressive programs.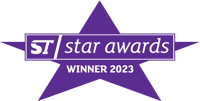 Greystone College is the proud winner of the Study Travel Star Vocational College Award, 2023!