ILSC Canada Schools Reopening Updates
June 10, 2020
At ILSC, we are working hard to ready our schools for a return to in-school delivery. Our priority remains twofold – the safety and well-being of our students and staff as well as the most effective and fullest learning experience possible.
ILSC Vancouver to reopen on July 13th
We are delighted to share with you today that the doors will be reopening for our language students in Vancouver from July 13th. An announcement regarding Greystone College students will be made at a later date.
Under the leadership of our Vancouver director David Mathews and his team, we are working on the safety guidelines developed in cooperation between Languages Canada and the provincial British Columbia government. We are also consulting closely with our colleagues in Australia who are sharing best practices from the successful recent return of our students to our schools in Adelaide, Brisbane, Melbourne, and Sydney.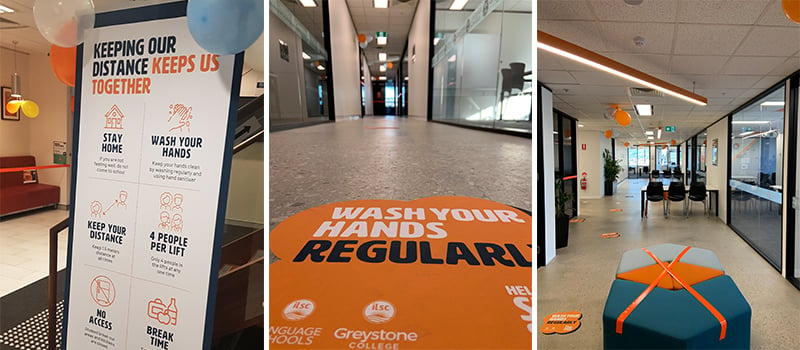 The following notes are provided as guidance and are subject to change:
ILSC's 20 hours per week Full-Time program will be provided

Class start times may be staggered so as to minimize congestion in common areas and classrooms

Social distancing will be observed in all classes (students will be seated 2 metres apart)

We will require all students and staff to wear masks. If students do not have masks, ILSC will provide them

If at any time, students feel unwell, we will take their temperatures on-site and students will be asked to return home

Hand sanitizers will be available both in common areas and in classrooms

Deep cleaning will be carried out regularly

Kitchen facilities will not be available at this time

Social activities are scheduled to continue 'on-line'

Students who prefer to continue to their studies 'on-line' will have the option to do so
Reopening in Montreal & Toronto expected in August or September

We are especially proud to announce that all three Greystone College Canada campuses will also be returning to in-school delivery starting October 5th, while our evening students will be returning starting October 19th.
Meanwhile, in Quebec and Ontario, it's anticipated that ILSC's schools will reopen in August or September. Our final decisions will be subject to guidance from the provincial governments. As soon as we have definitive news we will share that with you.
In Vancouver David and his team are enthusiastically looking forward to bringing to fruition the first stage of ILSC's staged reopening in Canada. In the meantime, if you have any questions or queries our sales team remains available to you to answer them.
Many thanks for your continued support!
Chris Nolan - VP, Sales and Marketing
Christopher Mediratta - Chief Operating Officer