Contributed by Jillian Diaz, Activities Department Coodinator at ILSC New York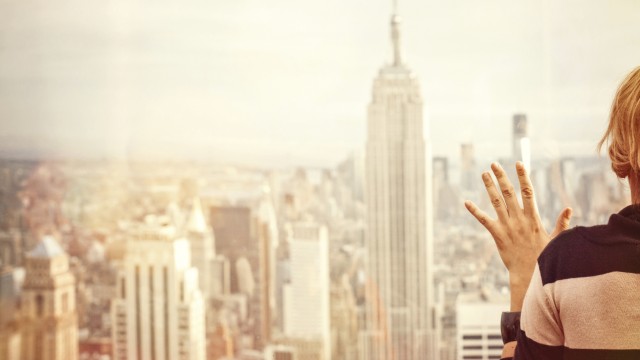 New York City is known for its fast-pace liveliness. With an abundance of activities available, experiencing life in NYC is a MUST! If you're looking for a way to customize your stay in the Big Apple, here are some tips to get the best experience without missing out or emptying your bank account.
BE IN THE KNOW
Half the battle is planning. Knowing ahead of time what's happening in the area, and getting an idea of the major sights and events you want to see will help prevent you from overpaying for last minute plans that might not meet your expectations.
Keeping up with the New York City life is a breeze. You can read up about events in local papers – all of which have online calendars of events: New York Magazine, Village Voice, Time Out Magazine. These magazines will help you fill your schedule with activities and give you an idea of costs.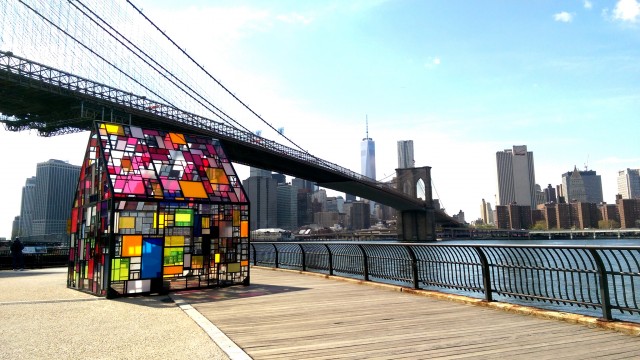 CHEAP TRICKS
If you're looking to go out without feeling guilty for overspending, use coupon apps like Groupon and Living Social. These apps provide discounts for dinners, shows, tours, amusement parks, and activities all around the city. Want to be thorough? Follow up with Yelp.com and check the reviews for service and pricing.
Another way to save is to buddy up with friends or fellow students and get a discounted group rate; or if you're feeling adventurous, create your own tours and sight see with new friends instead of paying for a tour. Keep in mind there are museums that take suggested donations, or offer a day of free admission (Brooklyn Museum, American Museum of Natural History, El Museo de Barrio).
If you want to dine out, take advantage of lunch and happy hour specials. Many eateries throughout the city offer great half-priced deals for 4-7pm Happy Hour (Tip for tips: it is customary to tip 15-20% gratuity in NYC).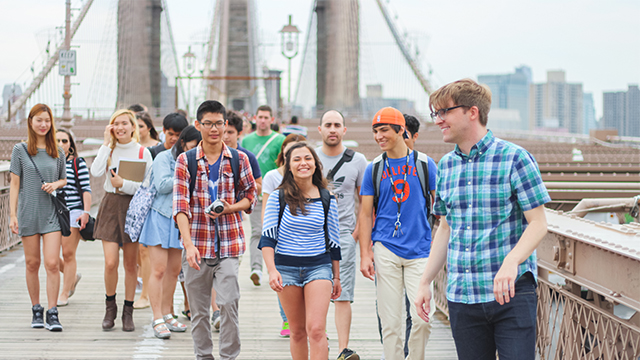 GETTING AROUND NYC
There is more to NYC than Manhattan! NYC has 5 boroughs (Brooklyn, Bronx, Manhattan, Queens, and Staten Island) and all are full of fun sights to see and places to explore. As tricky as the subway can be, subway apps such as Embark NYC and NYC Subway feature full subway maps, and offers up-to-date subway service.
Helpful tip: Uptown trains travel northbound, increasing in street numbers through Manhattan and usually head toward the Bronx. Downtown trains will travel south, decreasing in street numbers in Manhattan and usually head to Brooklyn and Queens.
Also, in a city where walking is a large component of travel, have Google Maps handy if you don't have the strongest sense of direction.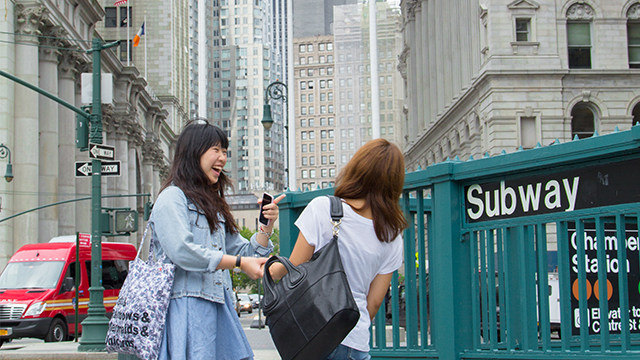 WORDS OF WISDOM
One last piece of advice. It doesn't hurt to get advice from locals about activities and timing. If your heart is set on visiting a particular spot – GO! However, you might want to consider the words from those who know the city a little better. Like if you're staying during the fall, you might want to take your trips to amusement parks early on before they close for the winter. Visiting Rockefeller Center during Christmas will be a completely different experience than any other time of the year. And although there are many Nathan's hot dog stands, there's nothing like having a Nathan's hot dog in the summertime on Coney Island beach.
All-in-all, have fun! Make your stay in NYC yours. Good luck and safe travels!
Comments
comments