Contributed by Haeran Park, Journalism Class, ILSC-Vancouver
Have you ever watched the TV sitcom Modern Family? If you say no, I strongly recommend you watch it right away!  I'm sure you'll love it. I started to watch the comedy a month ago in my house, and I immediately plunged into it like you would into a delicious bath at the end of a hard day. When I watched it for the first time, I couldn't stop. Probably nobody would believe that I watched all 48 episodes only in two days! Modern Family definitely has a power that attracts audiences.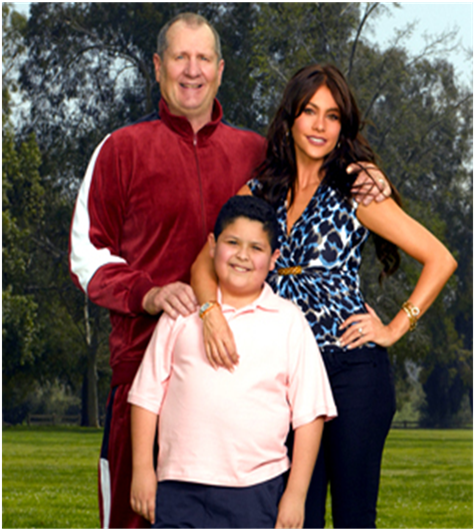 The story is about a huge extended family which actually consists of three separate families. The first family consists of Jay, an elderly man who has a great fortune and a young Colombian wife, Gloria. This is his second marriage. Gloria already had a son whose name is Manny.  The second family consists of Jay's daughter Claire who is a homemaker mother married to Phil; they have three children—Haley, Alex, and Luke. The third family is actually a same-sex couple: Mitchell is a lawyer and Jay's son, and Cam is his gay spouse; they adopted an Asian baby, Lilly.
Actually, the characters are so ordinary that we can really relate to them… in fact we can see those kinds of people anywhere, even in real life, maybe when you look over the fence at your neighbors. Okay, so it's about ordinary people – so what?
You're probably asking yourself, "What makes this sitcom so eye-catching?"  I can say that the characters will touch your mind because they are mirroring your life.  The ordinary characters are similar to ourselves, so they seem to show what we are thinking and how we are feeling. When it comes to empathy, I also want to compliment the actors and actresses on their good performances. When they make mistakes or act foolish, I feel embarrassed for them, like I would if this had happened to me or my best friend. They are so natural that they look like a real family. For this reason, we can recognize that all of them are passionate about their roles.
In addition, there is a lot of wit and humor which make audiences keep laughing throughout the show. For example, when Phil says, "What a nice dress!" and Gloria responds, "Thank you, Phil," Phil FEELS her dress by touching it. He is always confused and doesn't react normally. Instead of agreeing with Gloria and looking at the dress admiringly, he thinks he should TOUCH the material!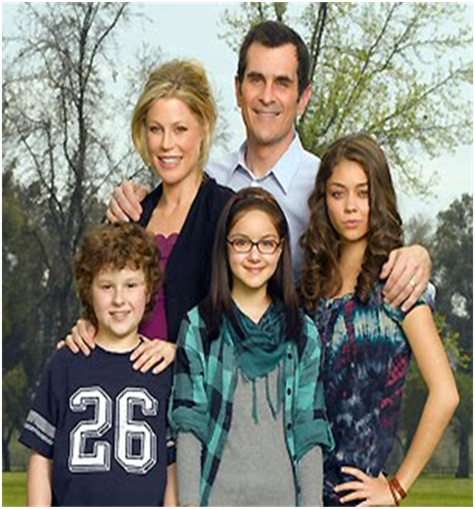 Another example is when Mitchell, who is a middle-aged man, encounters his ex-girlfriend, Tracy, who he dated when he was a high school student. One day, many years later he finds himself walking behind her. She has a young boy with her. Mitchell can't see the boy's face but he becomes suddenly convinced that the boy MUST BE his son that he never knew existed. He becomes convinced that he got Tracy pregnant back in high school but she never told him about the pregnancy or the baby. Mitchell decides to visit her and their boy in order to apologize to them with a gift- a baseball glove. However, shockingly, the boy is not his son. He is Tracy's husband….Tracy's VERY SMALL husband. In fact, her husband is a Little Person (a dwarf).
At the end of each episode, there is a good message that we should be aware of; the importance of family. Actually, we should not take our families for granted. As well, Modern Family helps us to realize what a family means, and how important it is. After we realize these factors, then it becomes clear why we are "family." We are not perfect, but we have a family who embraces our defects and encourages us. Thanks to them, we can laugh and enjoy our lives. Just as the picture below shows, a person in muddy clothes looks dirty.  But if he and his family members are all dirty-looking, they can look beautiful in their own eyes.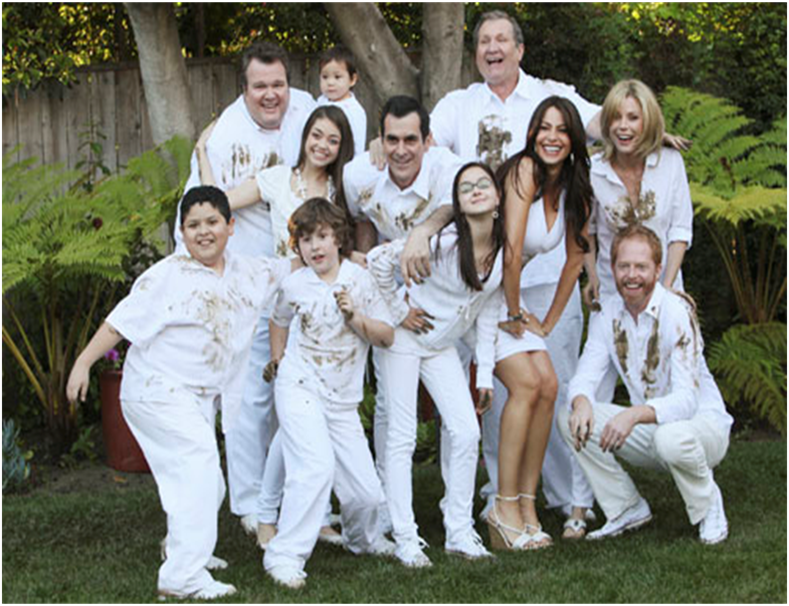 Comments
comments