Contributed by Preeyaphat Sriamontham, Journalism Student, ILSC Toronto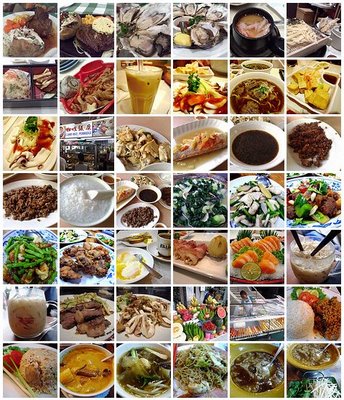 Have you ever had Mexican food or just Taco bell? Italian Pizza or just Pizza Pizza?
When you study in a foreign country, you like to take pictures and see the attractions of local history. Besides culture and ways of living, cuisine is not to be missed either.
However, there is another great way to study the
multicultural
flavours of Toronto: to eat
authentic
food from around the world.
Have you ever heard these questions from your friends? Or have you ever asked them yourself?
"Where can I eat at a good Korean restaurant?"
"Where is there a real Brazilian barbecue?"
"Is it true that Thai people eat insects?"
"What do you eat when you are home in your country?"
"Where can I find the real taste of Japanese cuisines?"
There are a lot of questions when you have many friends from other countries.
I know it is hard to recommend because it is hard to find the restaurant where are served original tastes. Or can you find some restaurants that serve the original taste of your country?
Most serve authentic food.

Most taste a bit obvious: everything is too sweet, and some food tends to lack the spice which it typically does. How about your food?
However, I believe that restaurants try to serve the original, but they substitute a lot of ingredients, and I think they adjust the taste for local people.
Let's see some examples.
Thailand
– Most Thai food is cooked and refined with more than two types of healthy herbs or spices which are beneficial to health
– One indispensible ingredient which is generally used in seasoning the majority of Thai cuisine is fish sauce.
– Thai food is eaten either as a single dish or with rice.
–
Som-tum is a menu item that you shouldn't miss. It is made from green papaya and, usually, the taste is really spicy, but if you don't like spicy, it can be adjusted. We eat it with sticky rice, laab and roast chicken.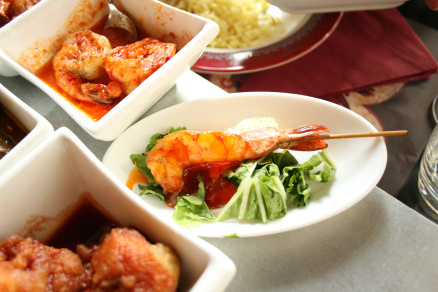 – Another I want to recommend is Tom-yam. It's a kind of soup and has two types: light and concentrate. But the taste in most restaurants here is much sweeter than the original. But if you want to try the real thing, you can buy instant ingredients in Chinatown.
– Padthai is a favorite on the menu in Toronto. One of the most recognized Thai dishes sweet and salty stir fried noodles with dried shrimp, peanuts, eggs, onions, and garnished with bean sprouts and spring onions. It's good if you garnish with lemon too.
– Many friends ask me, "Do you eat insects?" Yes, some Thais eat them, but not everyone, They are not the insects that you find on the floor, and you don't just pop them in your month. We choose some insects and deep-fry them before eating. Some say that they taste the same as potato chips.
– We have food called American fired rice. It comes from American food: eggs, ham and sausage mixed in a Thai style, which is eaten with rice fired in tomato sauce.
– If you want to know other items, you can find them
here.
Restaurants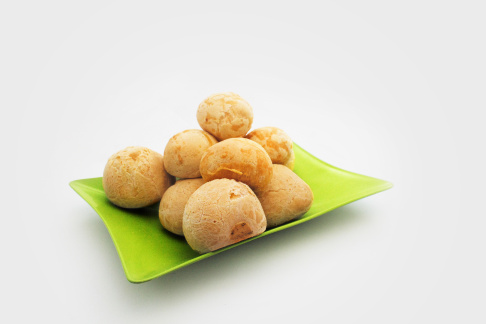 Brazilian
Brazilian food revolves around three main ingredients: white rice, beans, flour and vegetables. Some of the best and most popular cuisine includes:
– Salgadinhos: small savoury snacks (literally salty snacks).
– Caipirinha: a national drink made with alcohol (cachaça), lemon, and sugar
– Pão de Queijo made with cheese and flour
– Feijoada >> pork and black beans
Restaurants
Korean
Korean cuisine is largely based on rice, noodles, tofu, vegetables, and meats. Traditional Korean meals are noted for the number of side dishes that accompany steam-cooked short-grain rice. Kimchi is usually served at every meal, as well as gochujang sauce.
Actually, if you want to eat Korean food, it is not necessary to go to a restaurant because you can buy it from a Korean grocery store in Koreantown (Christie).
– Bulgogi – pork with Korean sauce
– Samgupsal – Korean barbeque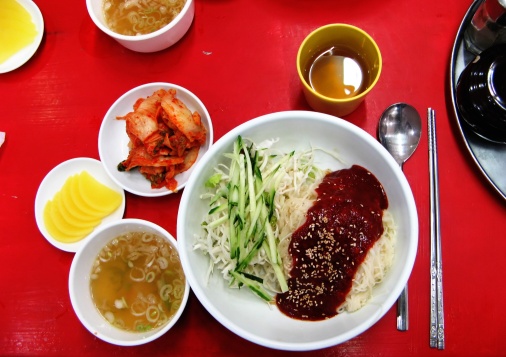 – Galbi – meat with Korean sauce (Barbeque)
– Bibimbab – mixed with vegetables with rice
– Sundubu soup – bean and Korean source soup
– Ddug bok ki – rice cake and Korean sauce
If you want to know other items, you can find them
here.
Restaurants
Saudi Arabian food
Saudi Arabian food is largely base on rice and meat.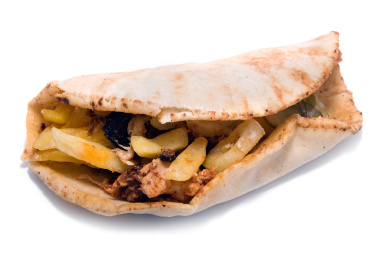 Kabba; kind of sausage made from chicken or beef.
Pita Bread
is a round pocket bread.
Arabic coffee is the national drink. Most people drink it with dates: sweet fruit
Chickpeas are a kind of legume.
Restaurants
Comments
comments